Trio or Full Band
In addition to solo and duo performers Gary Leanues Entertainment offers trios or full bands with the addition of some of the areas most talented and versatile musicians, including sax players, drummers, guitarists, bass players and more.
Some of the musicians available to work with Gary include: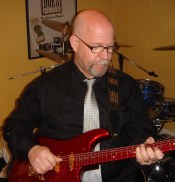 Jon Pelzman - Guitar, Vocals
Guitarist extraordinaire Jon Pelzman has worked with many bands including Image, Studio C, High Definition, Harbor Lights and the Deluxe Quality Band. Jon's approach to playing the guitar is simple, make every note count. Jon's passion for music is what makes his performances come alive. Don't miss this exciting and talented guitarist!